_
FESTIVAL SUBMISSION FOR "DRUNK WITH LOVE: A TRIBUTE TO FRANCES FAYE!"
 
• NAME OF ARTIST/GROUP PERFORMING
TERESE GENECCO & HER LITTLE BIG BAND  ("The longest-running nightclub act on Broadway!")
• SHOW CREDITS:
DRUNK WITH LOVE: A TRIBUTE TO FRANCES FAYE! ~  Starring Terese Genecco & Her Little Big Band
Conceived, written, and directed by Terese Genecco with Musical Direction by Terese Genecco featuring songs from the Great American Songbook as originally interpreted by Frances Faye.  Adapted from the original San Francisco theatrical production conceived by Terese Genecco, co-written by Terese Genecco & Mark Gagne, Directed by Mark Gagne, and Musical Directed by Amy Engelhardt (2005) with arrangements by Frances Faye, Russell Garcia, Tom Hubbard, Tony Malfatti, Daniel Fabricant, Mike Greensill, and Terese Genecco.
• SHOW OUTLINE:
DRUNK WITH LOVE: A TRIBUTE TO FRANCES FAYE starring TERESE GENECCO and featuring her 7 or 8-piece "little big band" (musicians can be acquired locally.)  Based on the life and live recordings of cabaret/nightclub entertainer, The Legendary Frances Faye, (b. November 4, 1912 - d. November 8, 1991) Terese Genecco transports every audience to a completely different era, born of the speakeasies in New York City in the 1920s to Faye's wild and worldwide performances throughout the next six decades.  Starting the show with a bang and bongos wailing, Faye's breakneck tempo treatment of The Gershwin's "The Man I Love" is easily achieved and sets the pace for the raucous nature of the live performance to follow.  Additional songs include "Tonight You Belong To Me," "I Ain't Got Nobody," "I Wish I Could Shimmy Like My Sister Kate," a Beatles Medley, "Night And Day," "Drunk With Love," "Unchain My Heart," "St. James Infirmary," "Purple Wine," "There Will Never Be Another You," "Kansas City,"  "Frankie & Johnny," and more!
• IMAGE FOR SHOW POSTER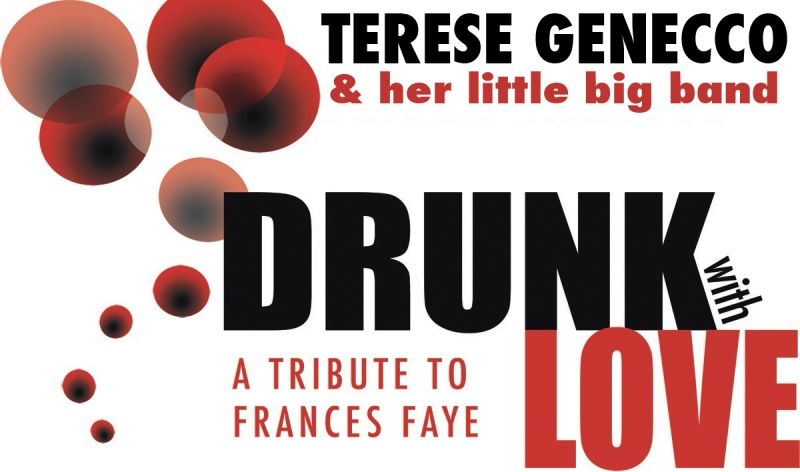 IMAGE OF ARTIST: TERESE GENECCO (photo credit: www.TroyZiel.com)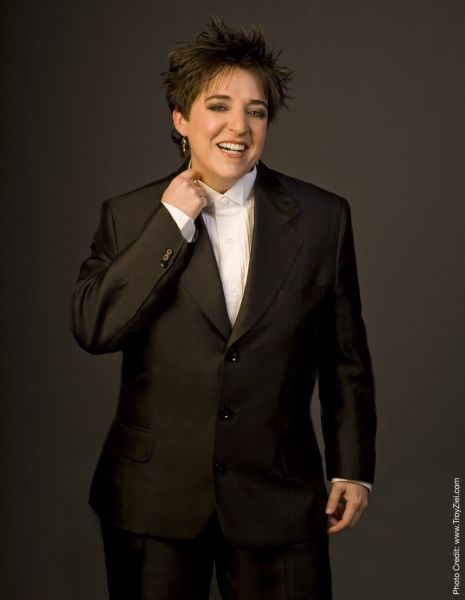 LINK TO YOU TUBE VIDEO:  http://youtu.be/ZhpxX3-zT_0
• DETAILS OF PREVIOUS SHOWINGS OF DRUNK WITH LOVE:A TRIBUTE TO FRANCES FAYE!
The first theatrical production of "Drunk With Love" made it's world premiere in San Francisco, California at The New Conservatory Theater Center for a five-week run in July/August of 2005.  The cabaret/concert version made its New York City debut at The Encore Showroom (now closed) in October 2005.  It was then booked as the 2nd opening act at The Metropolitan Room in New York City in May of 2006.  The show returned there in October 2006 and a live recording was produced from those performances.
In San Francisco, the show played at ODC Theater, then Jazz At Pearl's (now closed) until it moved to The Plush Room (now closed) in June of 2007 where the band was joined by the legendary percussionist, Jack Costanzo, who was heavily featured in Frances Faye's 1950's act.  The show played in Hollywood CA in August 2007 (again with Costanzo in the band line-up) and then returned to NYC in November of 2007 with "Drunk With Love: The Sequel!"  Genecco then brought a hybrid of the show to The Rrazz Room in San Francisco for a series of late night Saturday shows through 2008 and continued to perform in New York City and Hollywood for the rest of the year.  In March 2009, Genecco relocated to New York City and began her open-ended run of monthly shows (including the "Drunk With Love" material) at the world famous Iridium Jazz Club where she headlined for more than four and a half years.  The 100th Birthday Show was performed at 54 Below in New York City on November 4, 2012 on Faye's actual birthday and featured cabaret veteran Ricky Ritzel as the special guest star.  Jack Costanzo was scheduled to appear but was prevented from flying to New York City by Hurricane Sandy.  The show, however, did go on.
PRESS QUOTES:
"If you own nothing of Frances Faye's... 'Caught In The Act' is a good place to start.  So is Terese Genecco, who performs songs identified with Faye at the New York club Iridium.  Please don't stop reading.  Genecco is no dumb tribute act.  She does not want to be Frances Faye; she does make you understand why she's so important." ~Christopher Petkanas, The New York Times
"If you don't know who Frances Faye was, you should.  And if you don't know who Terese Genecco is, you WILL!" ~David Hurst, Next Magazine, NYC
"A class four hurricane...a truly rare performer...a drop-dead delight!" ~Peter Leavy, Cabaret Scenes Magazine, NYC
"There isn't a better match of performer to material: Heartfelt, powerful, bawdy.  The band and arrangements are first rate.  Those lucky enough to catch Terese Genecco will be treated to a rising cabaret star ranked one of the year's best!" ~Steve Murray, Cabaret Scenes Magazine, San Francisco
"Guaranteed to put a smile on your face...big, rich voice...fresh, 'take-no-prisoners' approach...Drunk With Love is intoxicating!" ~Richard Dodds, Bay Area Reporter, San Francisco
"A rollicking reincarnation of a rambunctious, rhythmic rebel!  A triumph!  Terese Genecco hits the bull's eye!  The Faye way fits her like a second skin as she comfortably takes on the late entertainer's sassy way with a song and a quip.  Is it cabaret?  Is it jazz?  Is it rhythm and blues?  When Terese Genecco sings, it's all of the above, but more than that, it's a party!" ~Rob Lester, TalkinBroadway.com New York City
"This is easily a cross-generational thrill...she pulls in the most jaded of audiences...wallow in retro goodness with the funny and talented Terese Genecco!" ~San Francisco Bay Times
"Faye-Tastic!  Astonishing voice!  Utterly delightful and amazing!  Spectacular!  In this non-stop show of extraordinary arrangements and superb vocals, it's a cabaret miracle!  One of the most charismatic singers to come along in a long time.  Devilishly fun!  Give me more, more, and more!" ~Lee Hartgrave, Beyond Chron, San Francisco
"Captivating!  What it would have been like to see Frances Faye in the 50's!  Swinging and full of life...all on high power!" ~Richard Connema, TalkinBroadway.com San Francisco
"Fabulously talented!  Sensational singer!  Simply delicious.  Big sound.  High energy.  A solid crowd pleaser.  We all hope that someday soon she'll come back, come back, come back!" ~Tom W. Kelly, San Francisco Bay Times
"Critics live for those moments when the lights go down, a singer puts it out there, and you know right away that you're hearing something special.  This happened to us at The Encore when we took in San Francisco-based singer Terese Genecco's show Drunk With Love: A Tribute To Frances Faye.  We were knocked out by the combination of Genecco's talent and craft.  She puts on a terrific show.  You shouldn't miss it!" ~Barbara & Scott Siegel, TheaterMania.com, NYC 
"A thrilling voice that evoked no less than the great Keely Smith!  Great comic timing...a fit heir to the oh-so-gay, Faye tradition! ~David Noh, Gay City News, NYC
"'The Man I Love,' the Gershwins' torch anthem of lonely yearning, isn't usually considered a feel-good tune.  But it's hard to avoid feeling pretty darn great when Terese Genecco launches into her bouncy, full-hearted rendition of the song - accompanied by a cooking seven-piece band - at the top of Drunk With Love: A Tribute To Frances Faye.  Genecco is carrying a torch, sure, but not for some long-delayed suitor-to-be; rather, she's channeling the irrepressible spirit of the late Faye, a cult nightclub star known for her raucous energy, frank bisexuality and naughty way with a lyric.  (In 'The Man I Love,' when singing the line 'I'll do my best to make him stay,' she coyly leaves out the final word.)  The San Francisco-based Genecco made her New York debut just last year; a river of good buzz carried her to an encore set at the Met Room in May, and now to a second return.  This newest version of Drunk With Love focuses on Faye's spirited jazz arrangements of popular tunes.  'I don't look like Frances Faye and I don't sound like her,' Genecco concedes; instead of imitating her idol, she aims to reproduce 'the essence of what it would be like to be at one of her shows.'  And the evening's snappy, zippy swing does leave you feeling like part of the polyamorous daisy chain that Faye lays out in 'Frances And Her Friends': happily woven into an inner circle of frisky retro fun!" ~Adam Feldman, Time Out New York Magazine
"There were no 'mice' in the Rat Pack - it was strictly an all-boy's club.  But if Frank, Dean and Sammy ever returned from the Great Casino in the Sky, the first youngish female singer that I'd recommend to join their clan is this high-voltage entertainer.  Ms. Genecco is deeply rooted in the early 1960s, the colorful last gasp of the era of swingin' lovers, and, as such, draws equally from Louis Prima and Sammy Davis on One Hand and Ray Charles and Elvis on the other.  On the last Tuesday of each month, she and her three horns and five rhythm put on an unstoppable juggernaut of a set at the Iridium, with one hard-hitting swinger after another, pausing only for what she describes as a mandatory 'two-ballad maximum.'  The calendar may say Dec. 28, but Ms. Genecco makes every show seem like New Year's Eve." ~Will Friedwald, The Wall Street Journal
AWARDS AND ACCOLADES FOR TERESE GENECCO IN "DRUNK WITH LOVE: A TRIBUTE TO FRANCES FAYE!"
Top Ten Best Cabaret Shows of 2006 and 2007, Time Out New York Magazine, NYC
2007 Bistro Award, NYC for Best Tribute Show
2007 Top Ten Best Vocal Albums of the Year from TalkinBroadway.com
2007 Top Ten Best CD's of The Year from Cabaret Hotline Online
2008 MAC Award for Best Recording of the Year (Manhattan Association of Cabarets & Clubs)
2009 Best Cabaret/Comedy/Theater Song of the Year from LARA (LGBT Academy of Recording Arts) Out Music Award
2009 MAC Award for Outstanding Female Vocalist (Manhattan Association of Cabarets & Clubs)
2012 MAC Award for Outstanding Major Artist (female or duo)
2012 MAC Award for Show of The Year
• If work is yet to be previewed, are you in discussions with any other venues/promoters?
NO
• RELEVANT LINKS:
http://www.teresegeneccolive.com
• Contact details for ONE chosen representative on behalf of artist
MANAGEMENT:
SHAYNEE RAINBOLT
shaynee@shaynee.com
+1 917-547-8796